10 Things To Do In The Fall With Your Family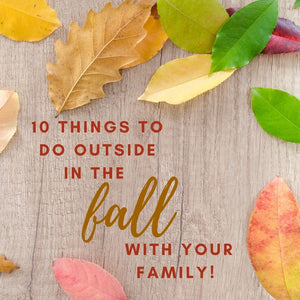 10 Things You Can Do Outside in The Fall with Your Family!
Just because the weather is cooling down here in the Midwest and school is back in full swing doesn't mean you can't have good times outdoors with your family! We've compiled a list of 10 family friendly outdoor activities to beat the indoor boredom and get kids excited about the outdoors!
Take a family walk or bike ride.
Bundle up and get your blood pumping! A walk or bike ride around the neighborhood is a fun way to get outside and check out the fall foliage while taking a screen break.
Rake a pile of leaves to jump into.
It's a win-win situation for the whole family! The leaves get raked and kids get to play outside!
Roast smores over a bonfire in the backyard.
Chocolate can put a smile on anyone's face! Invite your neighbors over and enjoy some time by a bonfire this fall.
Grab a football or baseball and play a game of catch.
The good news is, you don't have to know how to play the sport to be able to participate. If it ends in laughter, you're doing everything right.
Draw your favorite parts of fall with chalk on your driveway or sidewalk.
Explore your family's creative side with some chalk. This is an easy way to get kids outside and you'll have a beautiful art display when you're done.
Set up a fall picnic outside with hot apple cider or hot chocolate!
The weather might be cooling down, but that doesn't mean a family meal outside is out of the question just yet! Grab a warm drink and head outside.
Find an apple orchard or pumpkin patch nearby to visit for the day.
A family outing to the pumpkin patch, apple orchard or corn maze is sure to get your kids excited. There are usually activities that the whole family will enjoy, and the food and drinks are delicious!
Create an outdoor scavenger hunt.
This could be as simple as a list of a few things to find, such as a pretty colored leaf, a pinecone, a leaf that hasn't turned a color yet, etc. It's a fun way to get kids engaged.
Find a hiking trail you've never hiked before.
Hiking is so beautiful in the fall. Head to your local favorite spot or try somewhere new for a brand-new family adventure.
Sign up for a family friendly 5k.
Does your family enjoy running? A 5k with the family could be a fun way to create some new memories together and get in some great exercise!
We love to hear from you, so please let us know if you try any of the activities.
Follow along on my Instagram and Facebook for more (@kevinlovegreen).
Enjoy Fall!
Leave a comment
Comments will be approved before showing up.